Review Top 5 best HP Scanners in 2021 
To help convert data from text, images, documents into data files faster. What you need for yourself is one of the following top 5 HP scanners. 
HP ScanJet Pro 3000s3 Scanner 
HP ScanJet Pro 3000s3 Sheet-feed (L2753A) is known as the newly launched scanner model of HP. This device is an excellent choice for the office with superior features to convert data files quickly. Moreover, the machine has a design that is still HP's standard feature, compact and has not changed much compared to the older scanner line. The device has a striking box-shaped design with familiar white tones. Moreover, the connection ports are equipped on the back of the machine, and the menu or easy touch buttons are located right on the device's face. The machine also has an ADF tray that is designed to be folded down when not in use. 
In addition, the HP 3000s3 scanner also has a resolution of up to 600 dpi, so it delivers quality color scans and very detailed and sharp images. In addition, the speed of the HP scanner can be up to 35 ppm, or both sides can be scanned at 70 fps at the same time. Moreover, the machine also allows you to export many different file formats to meet your needs, such as PDF, JPEG, PNG, TIFF, Text (.txt),... HP ScanJet Pro 3000s3 can scan common document types and check multiple locations with HP Scan software.
Besides, HP Instant-on mode helps you not take much time to start the machine and saves effort for users.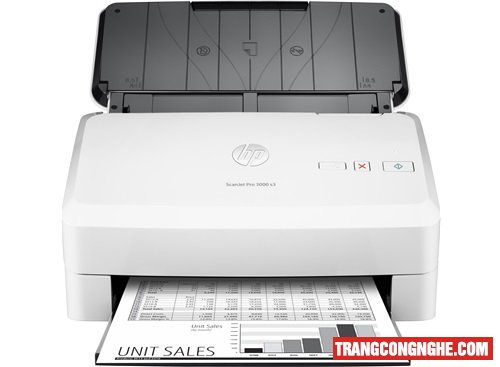 Reference selling price: 8.490.000 VND ~ 372,24$.
Scanner HP G4010 
The HP G4010 scores with the world's first 6-color scanning technology, delivering industry-leading color accuracy with high resolution, quality. Unlike typical scanners that only scan 3 colors, the HP Scanjet G4010 6-color scanner gives images clearly separated in red, orange, yellow, green, green, and blue. Therefore, the color comparison is 40% more accurate than conventional scanners. In addition, the resolution of this HP scanner is as high as 4800 x 9600 dpi, resulting in a true-to-life image equivalent to the original image. 
In addition, the HP G4010 scanner easily restores old colors, blurs images, and removes dust or scratches, thanks to HP Real Life technology scanning software. What's more, you can be assured of more vivid, realistic quality images thanks to HP Adaptive illumination that brightens dark areas while bringing out details. The device has a design of 4 "hotkeys" right on the lid, including scanning, film scanning, copying, and data sharing buttons. With just one button, you can efficiently perform the functions of scanning documents, creating pdfs or copying, emailing.
The device can also edit photos effectively with the HP Image Editor, which helps users edit images easily without any other programs.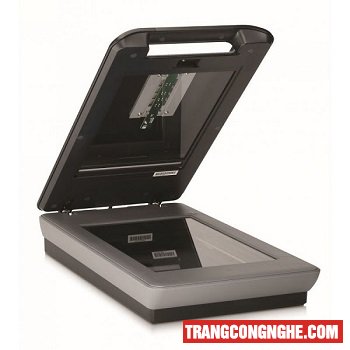 Reference price: 4.900.000 VND ~ 214,84$. 
HP 200 Scanner 
The HP brand stopped at the above two scanner models and launched the HP Scanjet 200 scanner line at a low price. But the ability to scan documents with a high resolution of up to 2400 x 4800 dpi, thereby allowing you to achieve highly sharp scan quality. In addition, the HP 200 scanner also owns a high scanning speed of about 21 seconds/page with a resolution of 200dpi, thereby helping you get the job done quickly. The HP 200 scanner series has a modern, compact design with subtle black colors, providing a professional and high-class space. 
In addition, the HP Scanjet 200 Scanner is equipped with an extremely popular and high-speed USB 2.0 standard connection, so you can easily connect to other devices faster and more conveniently. This HP 200 scanner also has built-in automatic scanning to save time and meet your diverse scanning needs with many different uses.
The ability to connect easily and quickly makes the HP 200 scanner simple to please. For maximum support for scan file formats, connect to a computer via a high-speed USB 2.0 port and be compatible with many current operating systems.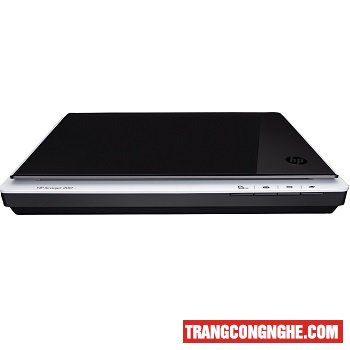 Reference price: 1.790.000 VND ~ 78,48$.
HP Pro 2500F1 Scanner 
The HP 2500F1 Scanner series features a compact, modern design that's perfect for your workspaces. office, office….The device can produce up to 40 images per minute thanks to the 50-page automatic document feeder. Moreover, this HP scanner supports scanning paper sizes up to 8.5 x 122 inches (21.6 cm x 309.9 cm) via the ADF automatic document feeder. At the same time, it is also very convenient to use flat glass for large paper sizes. 
HP Scanjet Pro 2500 F1 also supports automatic 2-sided scanning to increase product convenience, which helps users save more working time. The machine has a capacity of 1500 sheets/day for efficient work, in addition to the ability to scan with preset shortcuts to bring convenience to users. It can also capture text from documents with high precision for easy editing via HP Scan and I.R.I.S, Readiris™ Pro OCR software. Scans of documents, graphics, and images are sharp and accurate to life with resolutions up to 1200 dpi.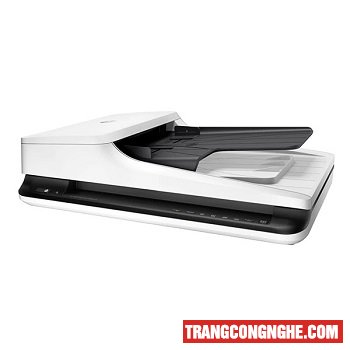 Reference price: 7.490.000 VND ~ 328,40$.
HP Enterprise Flow 5000s5 Scanner 
The HP ScanJet Enterprise Flow 5000s5 is a high-end document scanner with 65 pages per minute speeds. The device is also built with a unibody design that provides rigidity and durability. It ensures durability and meeting the needs of document scanning thanks to a capacity of up to 7500 pages per day. In addition, the HP ScanJet 5000s5 scanner has a built-in 80-page ADF that allows you to scan continuously. Together with Cmos Cis technology that will enable you to automatically watch 2-sided with just one scan, you can scan documents at speeds up to 130 pages per minute with automatic 2-sided scanning.
The HP 5000s5 Scanner can also scan documents directly to a USB flash storage device. That means you can scan documents quickly, without having to go through the steps of connecting and installing software via a computer or phone. This HP scanner also makes it easy to convert scans into editable text. Or into secure PDF files and many other file types using the built-in OCR. Enable storage and quick sharing so scans can be taken directly to popular cloud destinations in HP Scan software.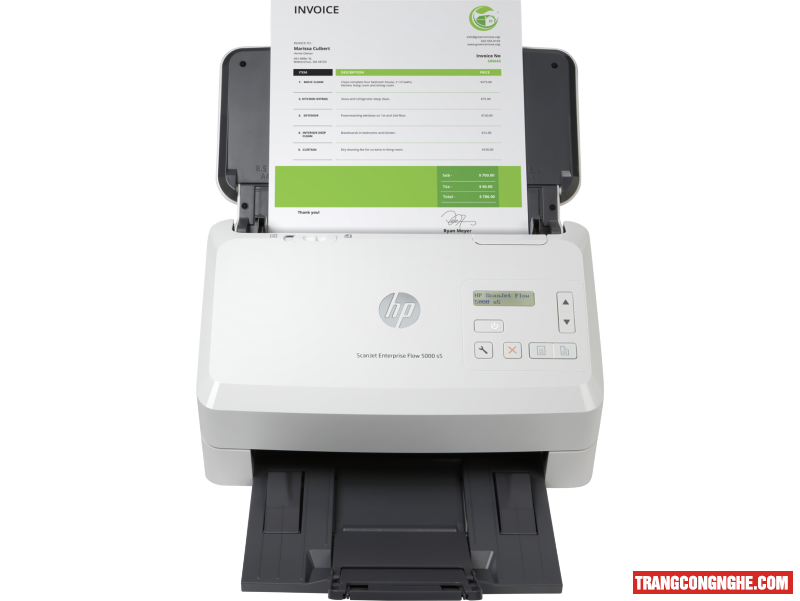 Reference price: 16.200.000 VND ~ 710,29$.
Above are the top 5 most widely used HP scanners on the market today. Hopefully, with these shares, you will quickly choose to buy a suitable, quality scanning device. Thereby helping you complete the work as well as get the most complete converted data files.