Top 5 famous quality video cameras
Are you looking for a beautifully designed camcorder that produces sharp image and video quality? Please refer to the top 5 quality video cameras listed:
Sony Handheld Camera FDR-X3000R
The first product in the top 5 most popular video cameras today is the Sony FDR-X3000R. The product is designed with a beautiful design, with delicate white color as the primary color. It can also challenge all different weather conditions. The outer shell is made of high-quality plastic, ensuring effective shock resistance and waterproofing at the maximum depth of 60m.
The Sony FDR-X3000R video camera is equipped with a Zeiss Tessar lens with a wide viewing angle of 33mm and the highest sharpness. It is suitable for capturing glorious moments such as mountain falls, steep slopes. In addition, you can adjust zoom and periscope freely.
Built-in GPS function helps to display clearly and fundamental parameters such as position, rotation speed. Also, some utilities that come with the machine include a USB connection port, memory card slots Micro SD, SDXC, etc.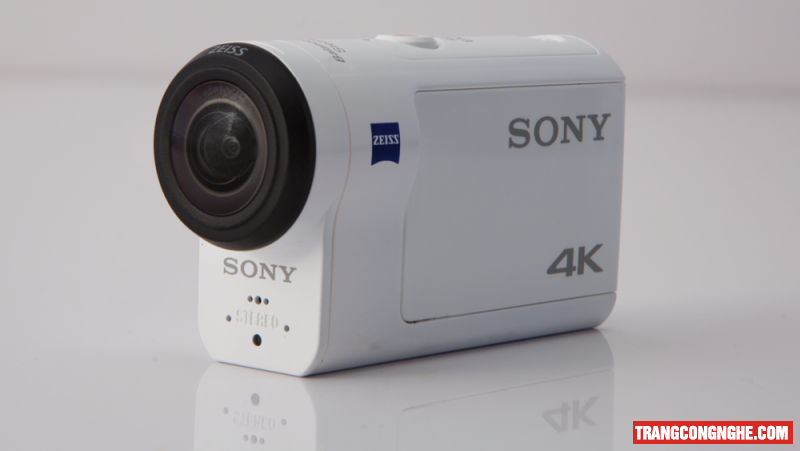 Reference price: $656,63
Canon VIXIA HF R800 Camera
Canon VIXIA HF R800 is a popular video camera for the sharpest full HD image quality. The product has a CMOS Sensor that produces 3.28 MP high-resolution images with a large number of pixels. It is currently the most popular and widely used camcorder product on the market today.
Canon VIXIA HF R800 can record in low light conditions or unstable light sources. 32x wide-spectrum optical image stabilization technology and Premium Zoom up to 57x give the most realistic and clear moving footage. In addition, the camcorder's lens extends up to 32.5mm for practical telephoto shooting.
Canon VIXIA HF R800 is designed with a 3-inch LCD touch screen that can be rotated, which is extremely useful. Besides, the machine also supports quick connection with many different tools such as USB, HDMI, AV ... for the fastest and most effective data conversion speed.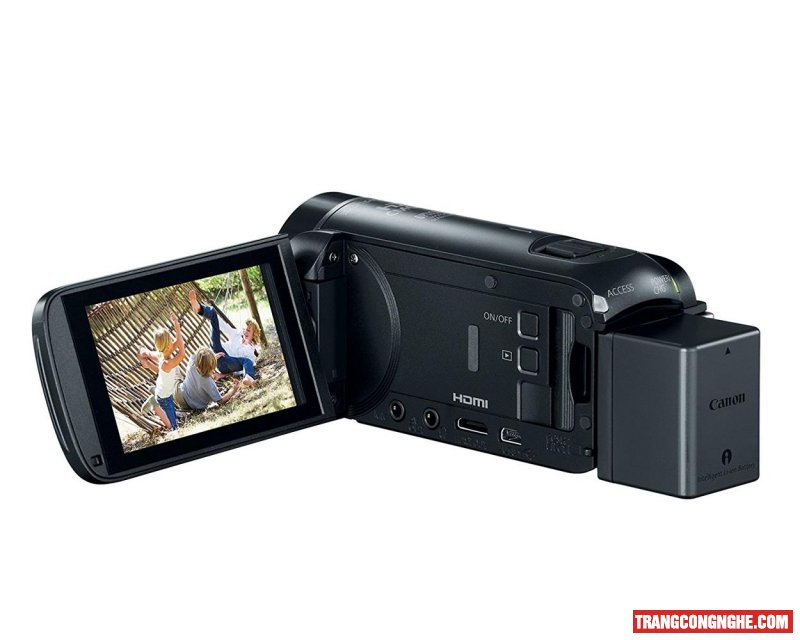 Reference price: $332,48
GoPro Hero 7 video camera
Of course, the GoPro Hero 7 camcorder cannot be ignored when it comes to the best video cameras on the market. It is a version of the most powerfully upgraded high-end camcorder from the famous brand GoPro. The most prominent is the stable operation and excellent waterproof performance, at a depth of up to 10m.
Its built-in supports high-resolution video recording, producing sharp images up to Ultra HD 4K at 60 frames/second. The machine is designed with a 2.0-inch LCD touch frame that fully displays essential parameters.
In particular, the manufacturer integrated HyperSmooth anti-vibration technology inside the body to replace the anti-vibration gimbal. HyperSmooth can automatically detect and adjust the shake to bring the sharpest, most professional videos, even when traveling by car or motorbike.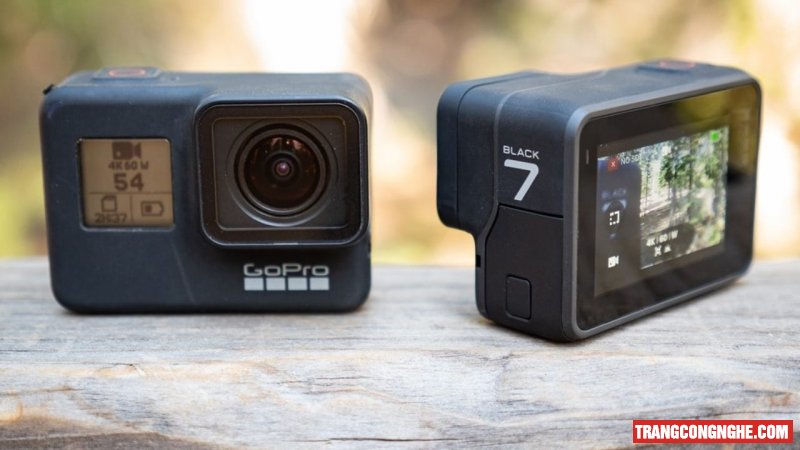 Reference price: $503,97
Sony HDR-PJ440E video camera
Another best video camera product from the Sony brand is Sony HDR-PJ440E. It is designed with a 13-lumen projector system. It allows you to comfortably project content stored in the camera onto any flat surface, like videos and images.
The Sony HDR-PJ440E integrates Optical SteadyShot mechanical stabilization technology with Intelligent Active Mode that automatically detects and corrects camera shake. Thereby, it keeps balancing the stability of images and videos stored in the device.
Sony HDR-PJ440E is supported to record with high recording speed, up to 50 Mbps in XAVC S format. In addition, the product is also integrated with two additional memory card slots, Micro SD/SDHC and Stick Micro, compatible with most of the different memory card formats on the market.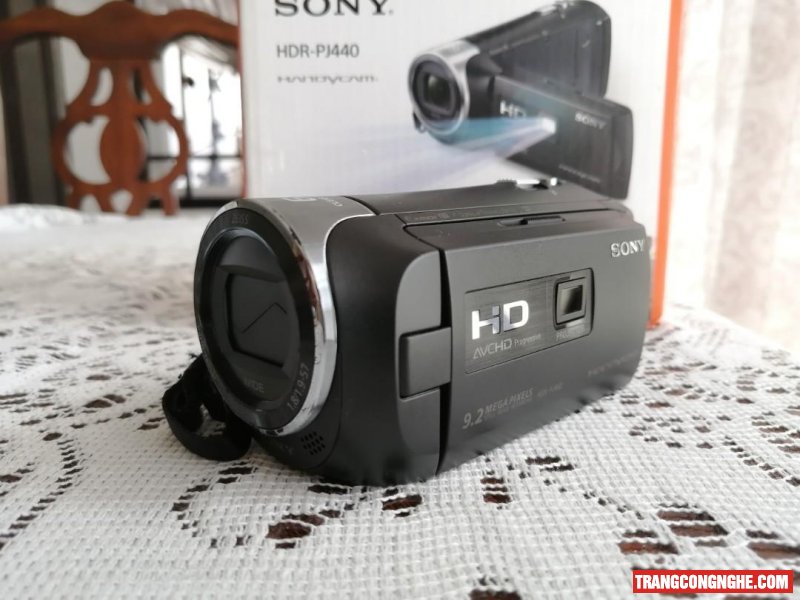 Reference price: $350,14
Panasonic AG-UX180EN8 4K video camera (PAL / NTSC)
The AG-UX180EN8 4K (PAL/NTSC) is a professional video camera that can record video in high definition 4k at 24p, UHD 4K at 60p, and Full HD up to 120p. It can convert formats such as PAL and NTSC, allowing the camcorder to seamlessly integrate with some of today's video broadcast media devices.
Panasonic AG-UX180EN8 4K (PAL / NTSC) uses a 15x Leica Dicomar zoom lens, a lens specifically made for HD video recording with a focal length of 24.5mm.
Moreover, this camcorder is also designed with three different rotating rings: mechanical zoom ring, focus ring, and Iris. This design allows you to customize settings quickly and directly without having to select on the control panel. In addition, two SD storage slots will enable you to record in HD and UHD simultaneously.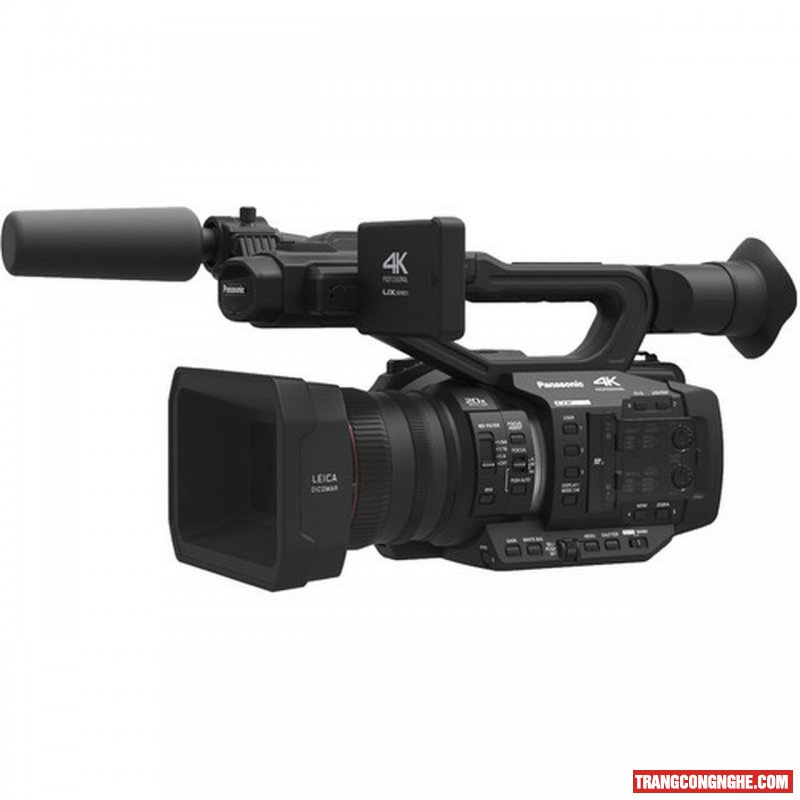 Reference price: 74,890,000 VND.
 A video camera with a beautiful design and sharp quality will save the most memorable moments of your work. Choose it wisely and try it now.