Top 11 Antivirus software for Android phones and how to test the efficiency
Applications on the Google Play Store are infected with more malicious code, which entails threats to phones and tablets running the Android operating system. To protect your device, you should actively install antivirus software for Android devices.
This malware increases the risk of stealing personal information, turns android devices into tools for DDOS attacks, and makes the device heavy, affecting your work and entertainment performance. You can go to tech4era to find out more information about the best anti-virus software
Some antivirus software for Android you can refer to:
Bitdefender Antivirus Free Software
Bitdefender Antivirus Free is a fast, powerful Android phone antivirus solution that uses the latest virus detection and cloud scanning technology. The application does not slow down the device, consumes the battery, and is entirely free. The application's autopilot scans any new app downloaded to the device for viruses. The ability to "catch" viruses reaches 99%, protects the device 24/7, blocks all threats before they damage the device.
Also, if you need more features, you can use Bitdefender Mobile Security & Antivirus Software (14 days trial), including:
VPN: Hide IP and unlock geo-restricted content.

Account security: Check if your email account has been breached.

App Lock: Set a PIN for sensitive apps.

Web Security: Real-time protection for popular browsers.

Anti-theft: Lock, track and erase data on the phone.

Advisor: See which apps leak your personal information.

WearON: Smartwatch protection.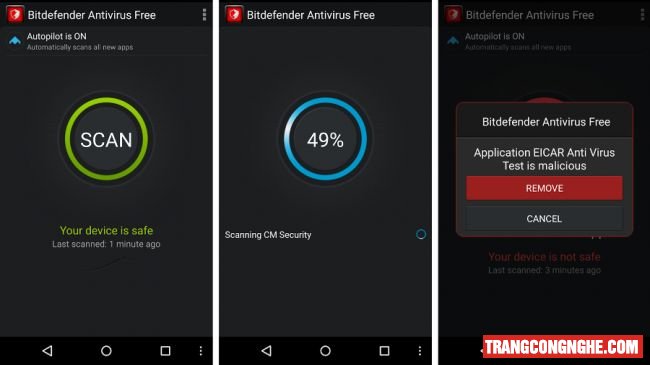 Kaspersky Internet Security: the best anti-phishing software
The desktop version of Kaspersky has been voted the best Internet antivirus software. The free mobile version offers all the standard protection for your device from malware, as well as a wide range of anti-theft and anti-phishing features. The app also has real-time user protection, browsing protection, and several other security options. If you want enough features, you will have to upgrade to the paid version for $ 14.95 / year.
You can try the paid version for 30 days. You need to sign up for an account to use some features, such as anti-theft.
Download Kaspersky Internet Security to your computer and install it now.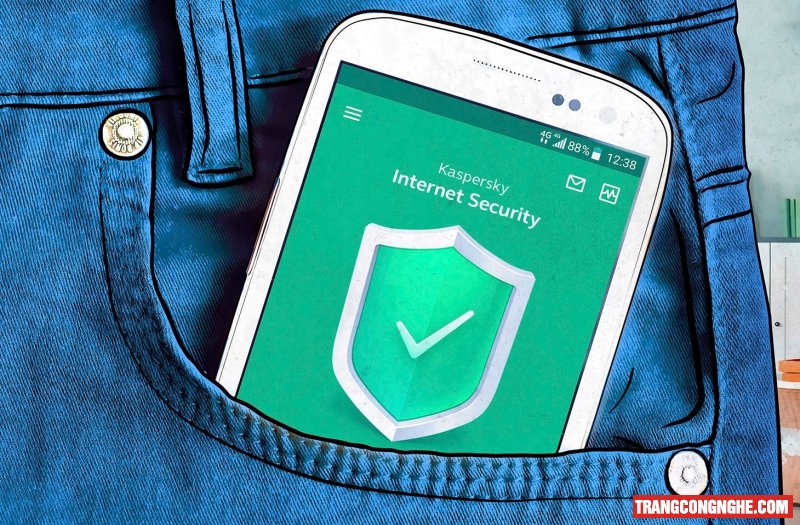 Malwarebytes Security
Malwarebytes is one of the most popular Android antivirus software. It focuses on doing an excellent job of protecting the phone from malware and arranging all the features in a simple, easy-to-use interface. Malwarebytes Security is also lighter than the others on this list. It still provides real-time protection, anti-malware. Moreover, there are privacy checks by scanning installed applications on your phone. Then it divides them into different categories, such as Apps that can cost you money, giving you an overview of your device status.
In addition, Malwarebytes Security's security helps assess potential weaknesses in your device's security settings and guide you to turn them off.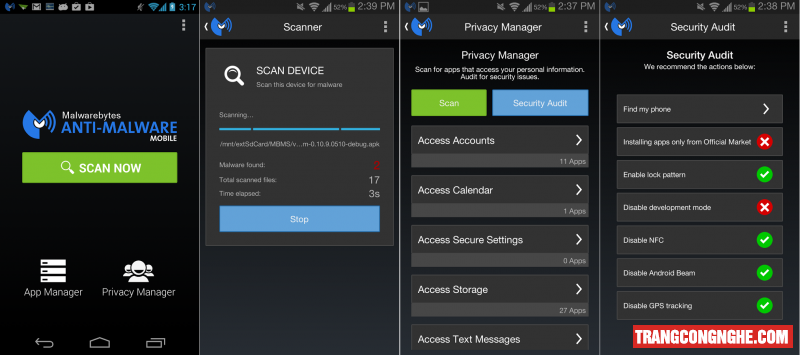 Avast Antivirus Software
Avast Antivirus Software(formerly Avast Mobile Security & Antivirus) is one of the most feature-packed Android antivirus apps. It takes care of security issues and performance issues such as RAM optimization and junk file scanning.
Avast Antivirus features on-demand scanning, real-time scanning, check the security of your current WiFiWiFi network. Also, it locks specific apps so that only you can open them. The app has a firewall option but can only be used on rooted Android phones.
There is a small minus point of Avast Antivirus that is promoting a lot of other Avast applications. If you are not interested in these applications, it won't be very pleasant. If you don't want to see these ads, you need to upgrade to the paid version, and the price depends on the plan you choose.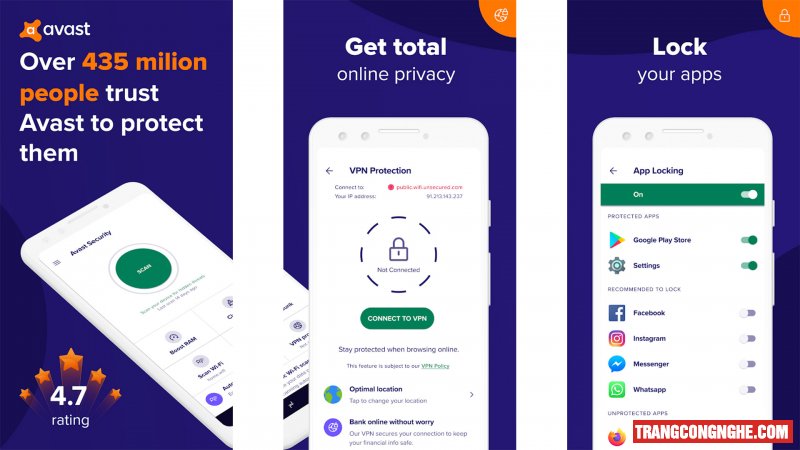 AVG Antivirus Software
AVG Antivirus Security offers more features than its name suggests. AVG Antivirus Security protects your mobile device from virus attacks, malicious applications, and other spyware in real-time. In addition, the app provides the ability to lock apps, prevent theft, force stop a task, backup apps, save battery, find out which apps are consuming battery. All features are streamlined in an intuitive interface.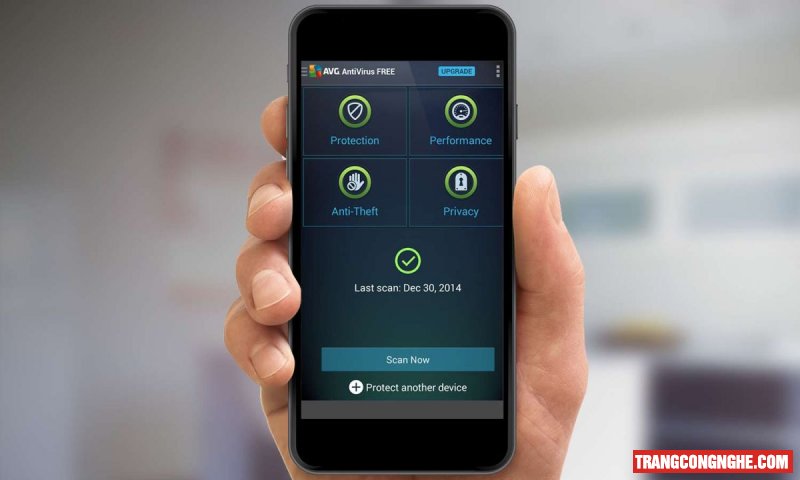 Antivirus for Android McAfee Mobile Security
McAfee Mobile Security is McAfee's Android antivirus software that delivers the advanced features you'd expect from a premium brand. The app offers on-demand scanning, real-time protection, checking what data installed apps take from the user, and the option to lock current apps from prying eyes.
Additionally, McAfee Mobile Security features device backup, a "Find device" mode, and a specific profile option that requires additional permissions and email registration to access.
The paid version of McAfee Mobile Security is much more expensive than other competitors, about $29.99/year.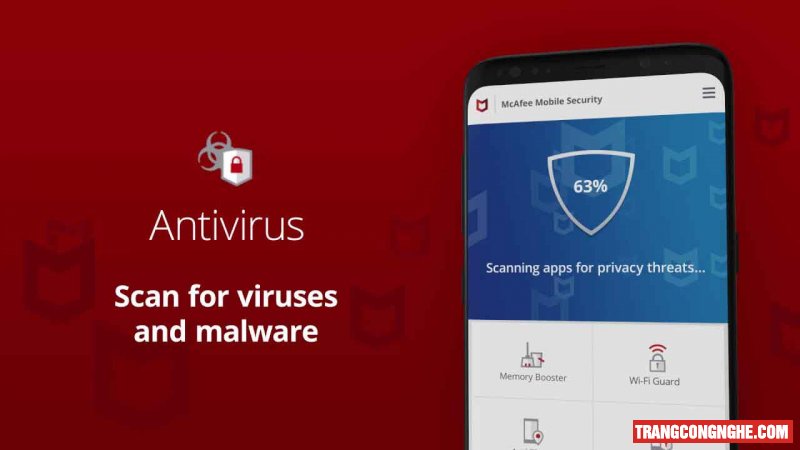 Trend Micro Mobile Security
The Trend Micro Mobile Security app scans new apps for malware before they are downloaded and installed. It also prevents newly installed apps from accessing other apps on your devices, specifically useful for parents and device administrators.
There's also a built-in privacy scanner for Facebook that warns you if your profile settings show sensitive personal information. Indeed, there are plenty of features here, including web protection, anti-theft. WiFi testing tools make sure any wireless network you connect to is safe. A full set of parental controls and a Pay Guard ensure that online shopping or banking is entirely secure.
Furthermore, both independent testing labs rate Trend Micro Mobile Security as protecting against 100% of threats, making it top in this respect at this time.
So there's a lot to like here, but the downside is that it's pretty pricey compared to many of the alternatives on this list. However, a free version of the app allows you to use all the features for seven days fully. You can try them all out before deciding whether to buy the paid version.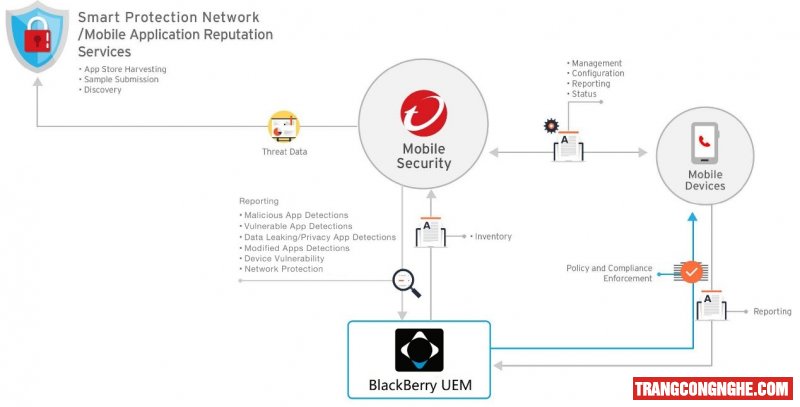 Lookout Security & Antivirus Software
What sets Lookout apart from other software on this list is that it doesn't have a desktop version, focusing entirely on mobile devices. You need to sign up for an account to use the app's features.
Lookout has two versions, the free version and the paid version of 2USD/month. The free version only gives you security protection against adware, bots, phishing, remote exploits, threats to rooted devices, spyware, some other malware, and device location. The paid version adds browsing protection, some anti-theft features, breach report alerting users if any service they're using is hacked.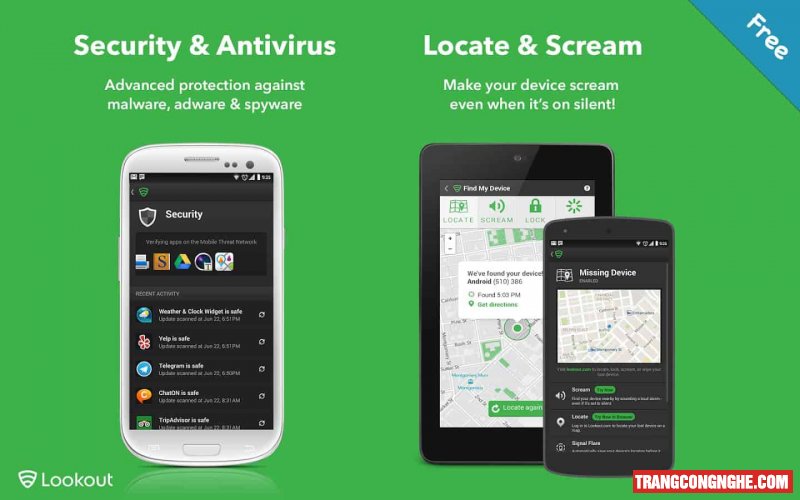 Norton Security Antivirus
Norton Security Antivirus is antivirus software for Android phones that blocks and removes malware on-demand and in real-time.
The app offers the standard Advisor feature that keeps you informed about security risks straightforwardly. One unique feature is the ability to integrate with Google Play to display app warnings before you download. You know the app you're about to download, whether it is draining the battery, is using a lot of data, or is there any potential risk.
The paid version requires $29.99/year, allowing you to try all the features for free for 30 days.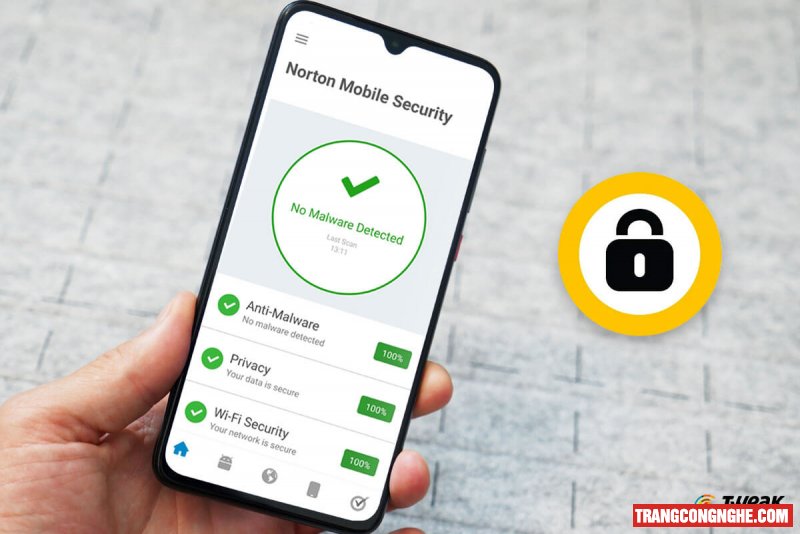 Dr. Web Security Space
Dr.Web is one of the oldest antivirus and anti-malware applications. It has a rich feature set, including fast and full scans, ransomware protection, quarantine space, stats, anti-theft features, call, SMS and URL check, parental controls, firewall, etc. Dr. Web Security Space is also relatively cheap. It costs just $8 - $16 for 1 to 2 years. There is also a lifetime license for $89. Lifetime licenses are a bit expensive, but get you rid of the monthly subscription if you want to.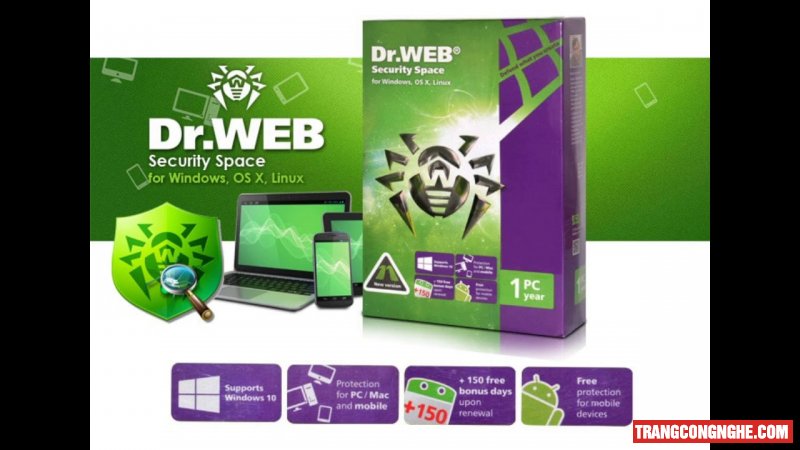 ESET Mobile Security and Antivirus
ESET is another big name in the antivirus and anti-malware world. Its features include scanning, anti-theft support, security checks, scan scheduling, and more. 
The biggest downside is that ESET Mobile Security and Antivirus requires an email address. 
You get a 1-month free trial when you install it. After that, the software will cost $1.99/month or $14.99/year. ESET Mobile Security and Antivirus is not as heavy as AVAST or AVG; heavier than CM Security Lite and Bitdefender.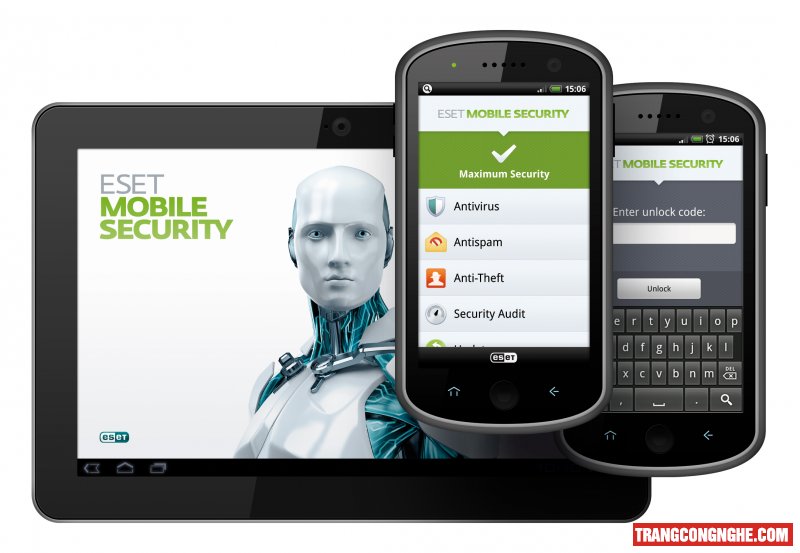 Test good antivirus software on Android
The AV-TEST antivirus testing laboratory evaluated the effectiveness of a wide range of popular antivirus software for Android with a 6-month test. It aims to determine how advanced they are due to the actual performance of these security products. In particular, they are all compared with Google Play Protect, the solution that Google itself provides to detect malware in Google Play store applications.
The study was conducted on Android 8.0, and apps from the following vendors were tested:
AhnLab

Avast

AVG

Avira

Bitdefender

F-Secure

G Data

Ikarus

Kaspersky

McAfee

NortonLifeLock

Securion

Trend Micro
AV-TEST's typical testing process evaluates these antivirus software solutions in three categories: protection, performance, and actual usability. Each security solution that worked perfectly in all tests received a maximum of 18 points.
Overall, several security solutions have received the highest scores, including: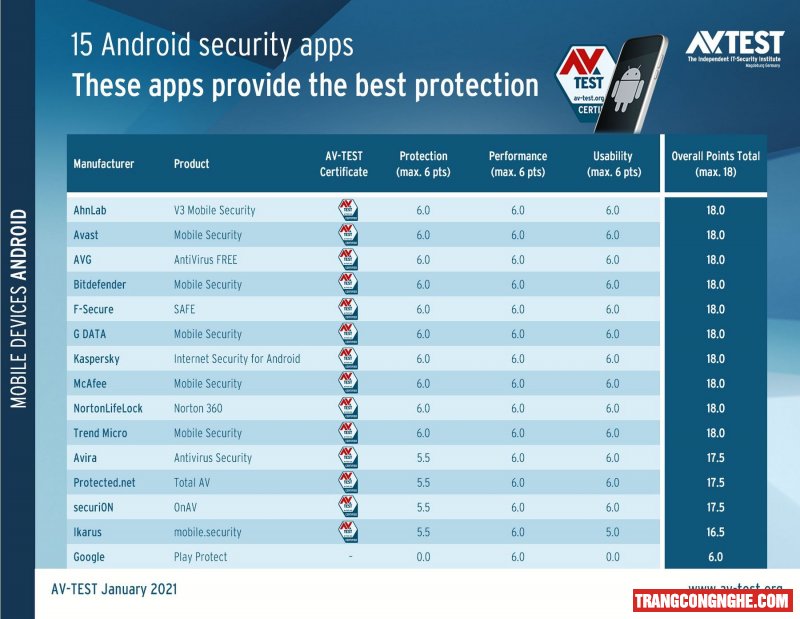 In general, you should not rely solely on Google Play Protect if you want to maintain the best protection on your Android device. Therefore, do not forget to install one of the antivirus software above.
Related News