Top 5 best durable Aukey power banks to buy
Aukey power bank is a famous product line on the market today. If you also love and want to buy yourself an Aukey power bank. Please refer to the top 5 best Aukey power banks, best buy today listed by Phong Reviews as follows:
Aukey power bank PB-T10 – 20000mAh
The PB-T10 - 20000mAh power bank is the first recommendation. The product is designed with two main charging ports, USB and Type C, to optimally meet the charging needs of all your devices. The outside of this product is also designed with matte black aluminum material, which is exceptionally resistant to fingerprints, making the product always new and durable.
In terms of technology, the Aukey 20000mAh power bank PB-T10 uses USB Power Delivery. It is one of the new multi-voltage charging standards. This feature automatically recognizes and calculates the output for all other devices in the most precise way. You will feel more secure when charging devices such as wireless headphones, smart bracelets, smartwatches with a small power source, which is safer than ever.
Power bank PB-T10 - 20000mAh can support fast charging for iPhones with large battery capacity such as XS, XS Max, etc., from 0 to 50% in just 30 minutes.
Reference price: $33,66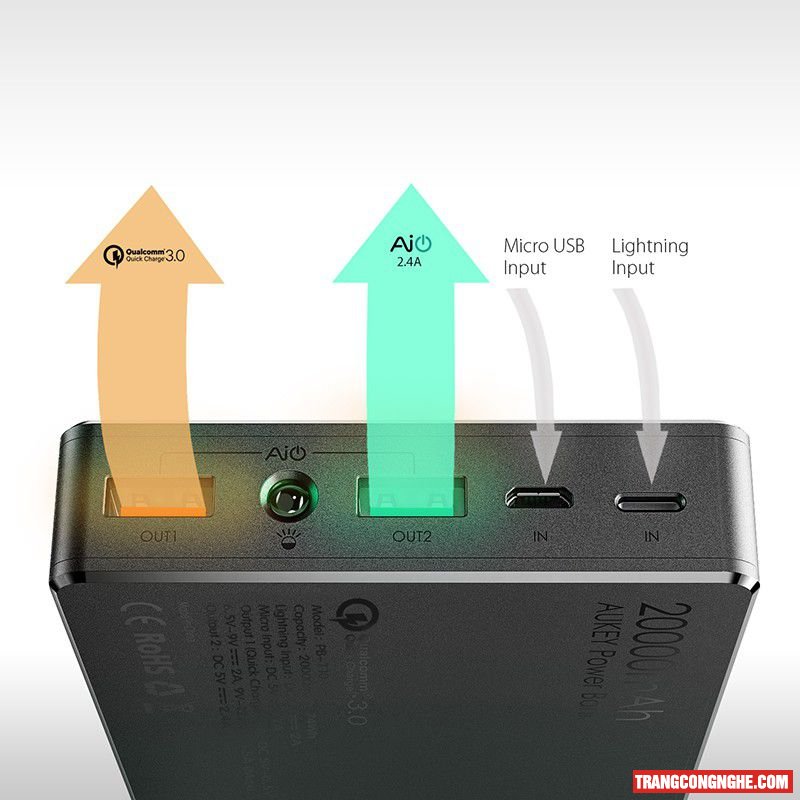 Aukey power bank PB-N30 – 3600mAh
The next name in the top 5 best Aukey power banks I recommend to readers is the Aukey PB-N30 3600mAh power bank. It is a product line with a simple design, but it highlights sophistication and modernity when used.
There is a Tesla battery core with durability of x7 times compared to conventional rechargeable batteries and many outstanding features such as anti-overcharging, anti-overheating, anti-reverse charging, anti-over charging, user-friendliness. With a design of 2 main connection ports, USB-A and USB-C, you can charge various devices.
Fast charging technology is also one of the outstanding features of this product line. With the presence of modern technology, Quick Charge 3.0 helps the device be charged exceptionally quickly and stably, helping to ensure the device is operating more smoothly but still ensuring absolute safety while in use.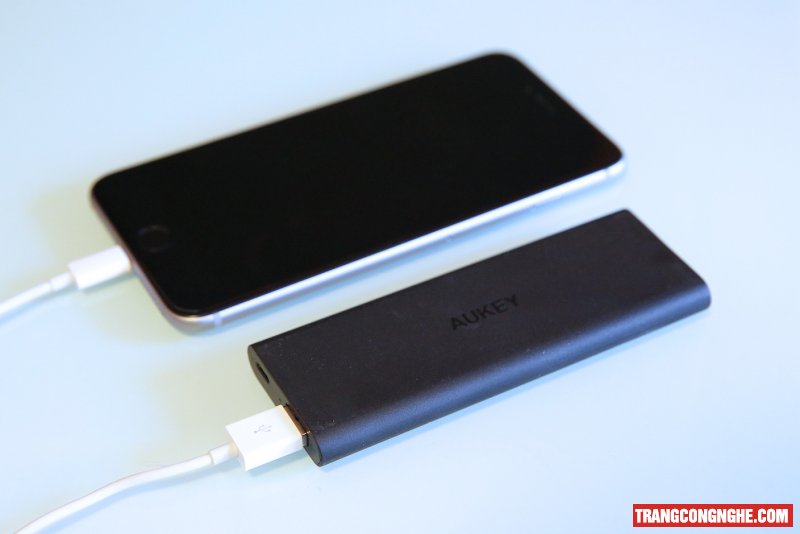 Reference price: $30,24
Aukey PB-Y36 10,000mAh power bank
Aukey PB-Y36 power bank is a beautifully designed, modern charger with a battery capacity of 10,000 mAh. This capacity is very suitable for basic needs, not requiring too large an accommodation such as listening to music or surfing the web. The product is designed with seven layers of safety protection and a compact design that is 30% more compact than devices of the same capacity.
The product is made from a modern Tesla battery core that reduces the size by 10% compared to other conventional ones. Moreover, the product has also undergone many battery tests for high energy display density, up to 21700 - an increase of more than 20% compared to conventional rechargeable batteries while helping to increase the charger's life seven times.
Besides, 18w Power Delivery fast charging technology helps set the iPhone 11 battery in just 30 minutes. In addition, it fully recharges the 10,000 MAH power bank within 3 hours, saving twice as much time as many other power banks on the market.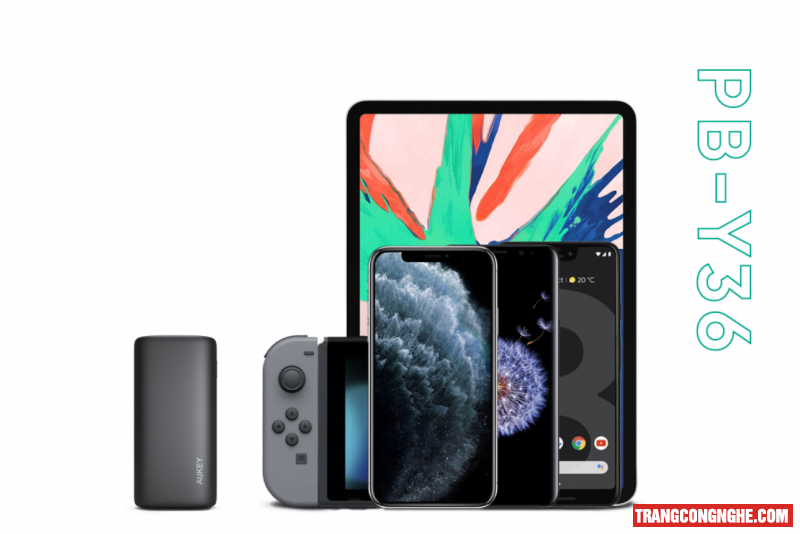 Reference price: $39,17
Power bank 15,000 mAh Aukey PB-Y39
Another choice of Aukey power bank is the PB-Y39 product line. Currently, many users praise the design and convenience it brings.
Aukey PB-Y39 power bank is equipped with convenient Quick Charge 3.0 and AiPower charging technology. It helps to charge the battery quickly, compatible with many different types of smart devices. It makes you no longer worry that the charging port is not suitable for your phone.
The product has a large battery capacity, up to 15,000 mAh, so it is helpful no matter where you are. In particular, the PB-Y39 is also resistant to reverse charging, short circuit, anti-overflow... ensuring absolute safety for users during use.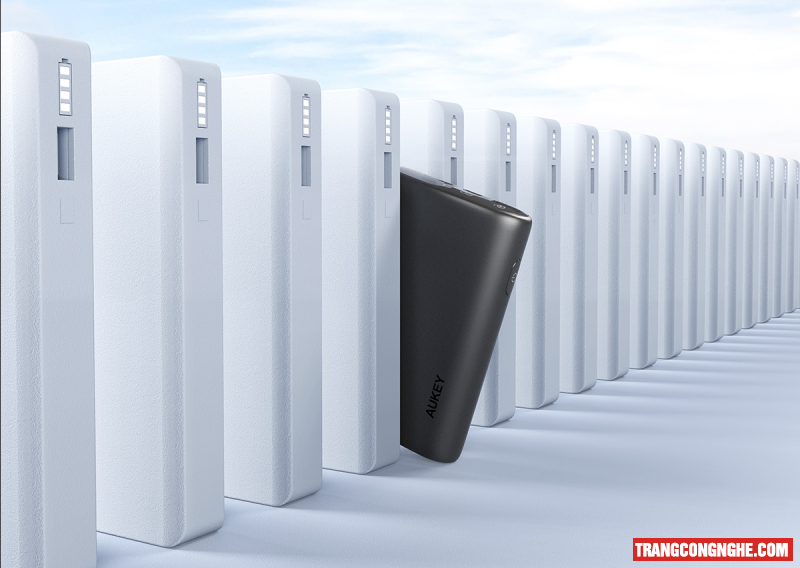 Reference price: $33,88
Aukey PB-N73 10,000 mAh power bank
It is a significant omission to mention the best Aukey power bank products without the 10,000 mAh Aukey PB-N73 backup. The product possesses a slim and delicate design that has made a strong impression on users at first sight. Besides, it is manufactured with a high-capacity battery with relatively adequate bearing capacity and impact resistance.
Aukey 10,000mAh power bank PB-N73 is integrated with smart AiPower technology. This technology allows the product to automatically analyze the source of resistance, thereby providing the most suitable power supply for many different devices. It will enable optimal charging time of the device and ensure the device's safety and longevity when it is charged with the proper current.
The product is designed with four diverse USB ports: 2 USB-A ports, 1 Micro-USB port, and 1 Type C port to provide the highest compatibility for all devices. At the same time, the product also incorporates modern Adaptive Charging technology to save charging time for each device from tablets, smartphones, with a substantial output of up to 3W, the total capacity is 15W.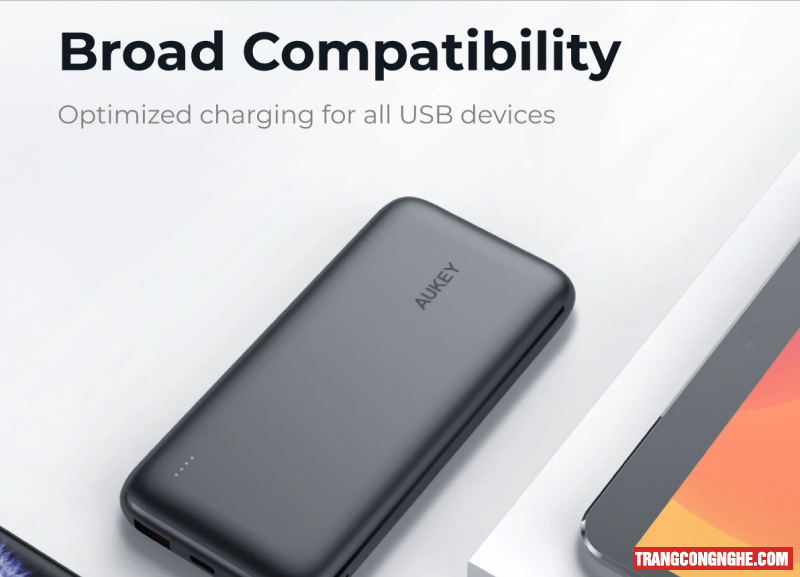 Reference price: $39,18
You must have grasped the detailed information about the Aukey power bank with this review. The Aukey power bank possesses a beautiful appearance and fully meets the needs of charging for all different types of devices. Moreover, this product line has an affordable price, suitable to the tastes of many consumers. Experience it now.