The top 5 best Anker power banks are popular
If you are confused about which Anker power bank to choose, let's explore the top 5 below.
Anker 10000mAh PowerCore II A1230 Power Bank
This Anker power bank is equipped with exclusive PowerIQ technology. As a result, it can automatically detect the device to provide the appropriate power supply, helping to charge quickly and efficiently. Moreover, with Anker's PowerIQ 2.0 technology, for broad compatibility, it supports fast charging with Qualcomm Quick Charge devices, iPhones, iPods, etc. A USB port for 18W capacity with the effect of faster charging up to 30 minutes longer than Anker power bank models using PowerIQ 1.0 technology.
Another strong point of this Anker 1000mAh PowerCore II A1230 power bank is its relatively large capacity, up to 10,000mAh. With this capacity, it will be enough to power your phone throughout the day with multiple charges. Moreover, you can also use it to charge iPad and other devices very securely. When the power bank runs out of power, it only takes about 4 hours to recharge the battery, thanks to Quick Charge fast charging to save quite a lot of usage time.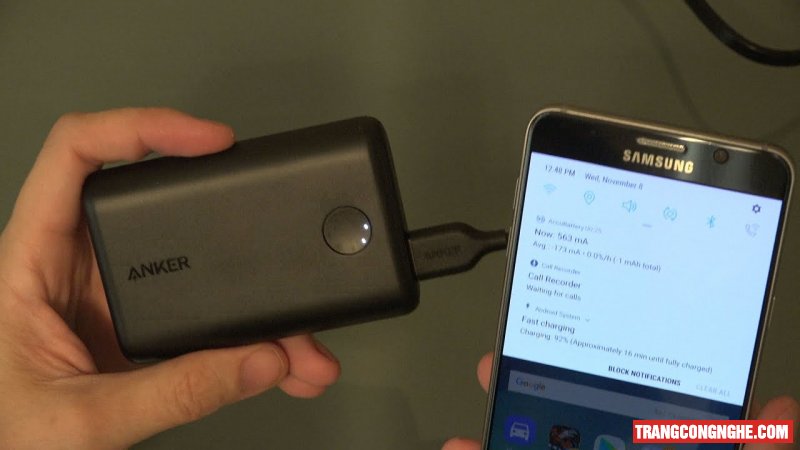 Reference price: $46,01
Anker 1000mAh PowerCore Select Power Bank – A1223
This Anker 1000mAh PowerCore Select - A1223 power bank is made from high-quality BCA plastic material for high durability. Besides, it is also covered with a rough outer layer to help prevent scratches and optimal anti-rust, anti-fingerprint, or dust. The product size is tiny, fits in the palm of your hand, convenient to carry. Moreover, this Anker charger is equipped with PowerIQ fast charging technology and VoltageBoost, which shortens the charging time to the lowest level.
This Anker power bank is compatible with most of today's intelligent electronic devices. So, users can comfortably power their devices without having to worry about not receiving the charger.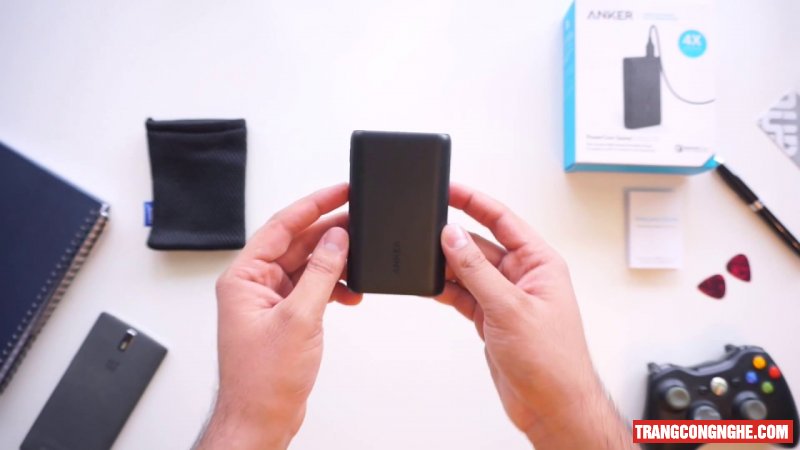 This Anker power bank has a large battery capacity of 10000mAh, allowing it to meet high entertainment needs, and at the same time avoid wasting a lot of battery when: watching movies, playing games, surfing the web, etc. It charges for iPhone X about two times, iPhone 8 with 3.5 times. In addition, the device supports 2 USB output ports 5V/2.4 for each port of the charger. The MultiProtect safety protection technology ensures internal components from problems.
Reference price: $26,29
Anker Power Bank 20000mAh – PowerCore Speed ​​PD Nintendo A1275
Anker's 20000mAh power bank has only been recently launched, so it has the most advanced technologies. The device is not like conventional power banks, depending on the USB-C port's input and output. But the product provides a total charging capacity of 22.5W, which is quite powerful. With this capacity, it is enough to charge some MacBook or Nintendo Switch lines. In addition, the 20000mAh capacity provides multiple charges or charges multiple devices at the same time.
The Anker 20000mAh, PowerCore Speed ​​PD power bank's total recharge capacity is also up to 30W. So it's evident that this product supports fast charging for both input ports very well. It only takes you about 4 hours to refill the Anker power bank with a capacity of 20,000mAh with a USB-C PD charger. Moreover, this time has been significantly shortened because conventional rechargeable batteries will take 10-24 hours to be fully charged.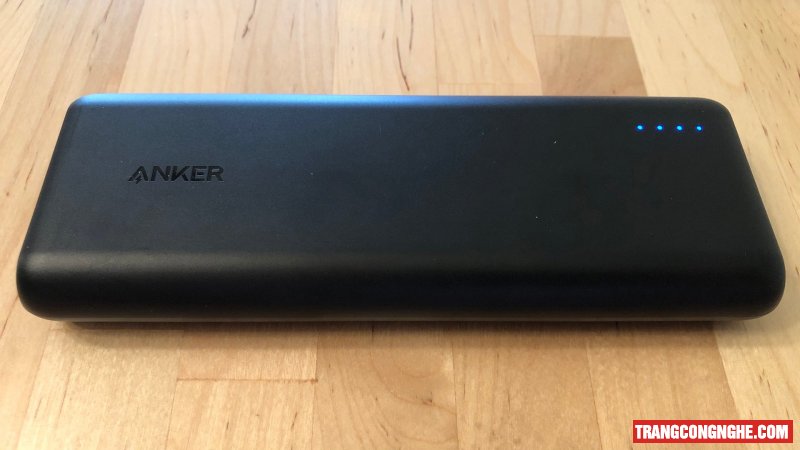 Reference price: $83,32
Anker power bank 20000mAh PowerCore Elite A1273H11
Rated as the high-end power bank model, Anker 20000mAh PowerCore Elite A1273H11 is famous today. The device has a thick rectangular shape with a modern glossy black finish and extremely light and softly curved edges. Therefore, users can carry it away, hold it without feeling entangled. Another outstanding advantage of this charger is its massive capacity of up to 20000mAh, allowing it to power smart electrical devices within one week of use.
In particular, you can charge seven times for iPhone 7, nearly 4.5 times for Galaxy S7, and 1.8 times for the Ipad Air. In addition, the product still uses the optimal fast charging technology VoltageBoost and PowerIQ with both input and output ports, so it only takes 6 hours to charge the devices fully. Combined with that is a product that supports up to 30W of power for three output ports. In addition, the MultiProtect electronic circuit protection system also helps prevent the unfortunate risk of fire and explosion for both the phone and this power bank.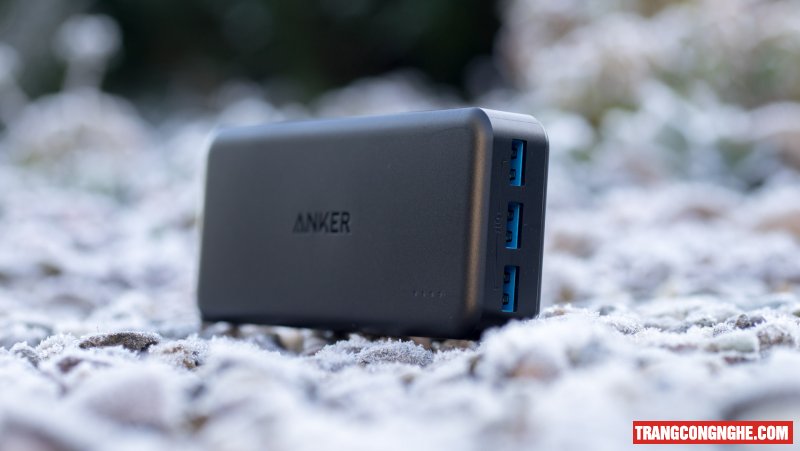 Reference price: $63,59
Anker power bank 10400mAH PowerCore A1214
This Anker 10400mAh power bank is covered with a rough outer layer with an effective anti-fouling, dust-proof, and anti-fingerprint effect. In addition, the charger has a capacity of 10400mAh, so that it can charge four times for iPhones, three times for Galaxy S6 and iPhone 6 Plus. Next, VoltageBoost and PowerIQ technologies are integrated by the manufacturer and exclusively owned by Anker for optimizing charging speed for all devices.
The product is also equipped with a MultiProtect safety system for excellent protection of the components inside the device. It also prevents unexpected electrical leakage or short circuit. The charger's LED technology also helps inform the battery life while charging. The device supports 2A/5V input and 3A/5V output, so it is very suitable for those who like to travel long distances and worry about their phones running out of battery fast.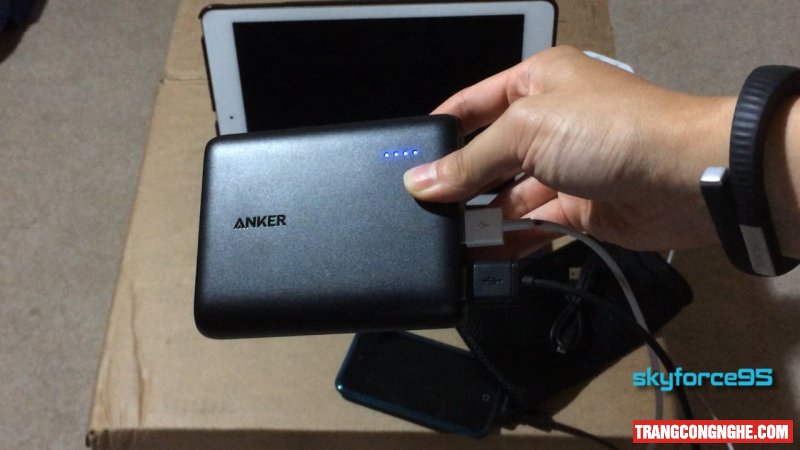 Reference price: $34,64
So we have just introduced to you the top 5 best and most popular Anker power banks on the market today. I hope this information is essential, valuable, and helps you find the right power bank. Choose one, and you will no longer have to worry about going away, comfortably surfing the web, playing games as you want.