After a long time of maintenance and upgrade, the feature to find friends around here on Zalo has returned with a new look. Instead of setting this as a feature available like the old versions, Zalo has moved Find friends around on Zalo as a support utility. Users need to activate it to use it. So how to set up and use the feature to find friends on Zalo for Android or iPhone? Please follow the detailed instructions in the following content. 
Find your phone Zalo through the find look here
The way to find friends Zalo on Android phones or iPhones is similar. So Tamien phi will only guide you to turn on the Find Around Here feature on the iPhone interface, making it easy for you to find friends on Zalo for active users and check-in around the user's area.
To use the smoothest and most stable Find Around feature, download the latest version of Zalo to your device. 
- Download Zalo for Android: Zalo for Android 
- Download Zalo for iOS: Zalo for iPhone 
Step 1: Log in to your Zalo account as usual. On the search bar at the top of the screen, enter the keyword "Find Around." And click the Search Around function in the list of suggested results. In the function introduction window, click the Interested button.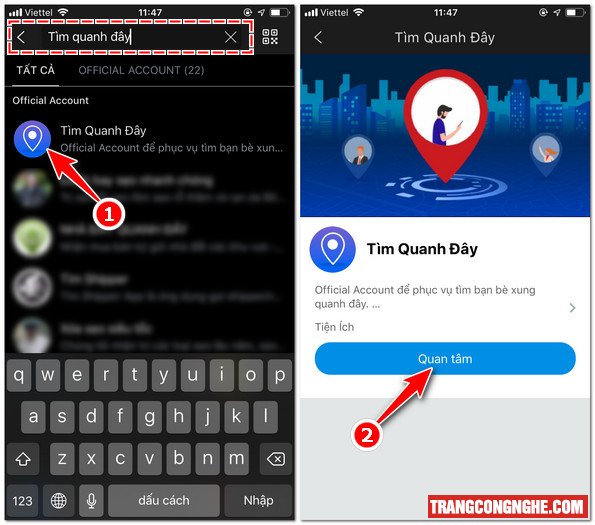 Step 2: Immediately, the system will transfer you to a new working window. Here you click on the Start button. 
The system will ask for permission to share information, location. Click Allow access to agree.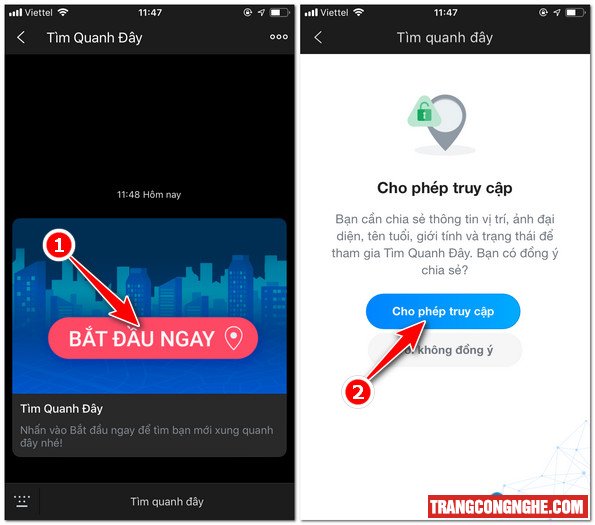 Step 3: Zalo will immediately display a list of nearby users that the system has located like the image below.
Note: The users shown in this list are the people who also have the Find Around feature turned on to find you on Zalo. 
In addition, Zalo also provides users with information filters to find Zalo friends by purpose. In the main window of Find Around Here, click Find Friends. The filter consists of 2 parts:
- Search object: Users search according to the settings they want. 
+ Gender  
+ Age
- Who can find you: Only show your account in the lookup list of certain people.  
+ Gender
Once done, click Update to save and make changes.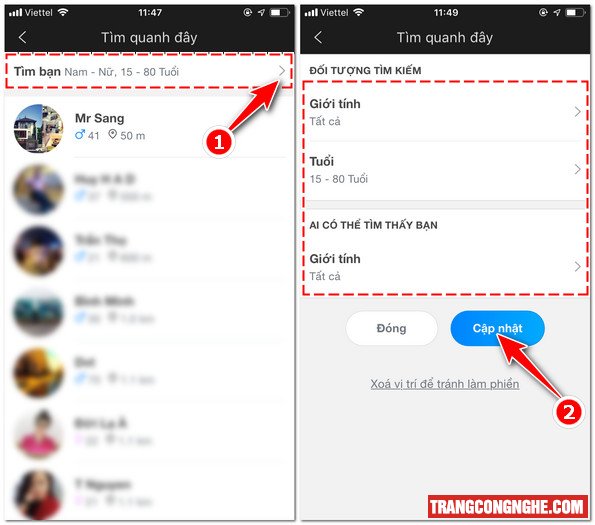 Finding friends on Zalo with the search around feature is not always easy to find the person you want, so you can refer to more ways to find Zalo friends by Facebook, QR code, or phone number. Finding Zalo friends by Facebook or finding friends on Zalo by scanning QR Codes, etc., has certain advantages and disadvantages.
When you have found friends on Zalo, you can easily log in to your Zalo account, chat, text, and video call on Zalo. Of course, when you haven't made Zalo friends, you can still talk and text but not yet. You can make video calls on Zalo, like when you make a successful Zalo friend. However, synthesizing ways to find zalo friends is just one of the few ways to use Zalo that many users can learn. To get the best Zalo experience like surfing Facebook, Viber, Skype, you can read and learn more Zalo tips introduced by Trang Cong Nghe.