Realme GT5 is powerful with Snapdragon 8 Gen 2 and 24GB RAM, priced at just 497 USD
The realme GT5 was officially launched in the Chinese market on August 28th. The device set a pre-order record of 30,000 units before the sale date. The realme GT5 is rated to have strong performance and remain very stable when running many tasks simultaneously. So what is the truth? Let's evaluate the performance of this product through the article below!
HIGHLIGHTED WITH SNAPDRAGON 8 GEN 2
Display: OLED panel, 6.74-inch size, Full HD + resolution (2,772 x 1,240 pixels), 120Hz refresh rate.
Processor: Snapdragon 8 Gen 2.
RAM: 12GB, 16GB or 24GB.
Internal Storage: 256GB, 512GB, up to 1TB.
Rear Camera: 50MP + 8MP + 2MP.
Front Camera: 16MP.
Battery: 4,600 mAh, supports 150W fast charging, 50W wireless charging.
The realme GT5 is equipped with the Snapdragon 8 Gen 2 processor from Qualcomm. This processor is built on TSMC's advanced 4nm process to optimize performance and power efficiency. With an octa-core CPU integrated, the realme GT5 can smoothly and quickly handle any tasks users need on their phones.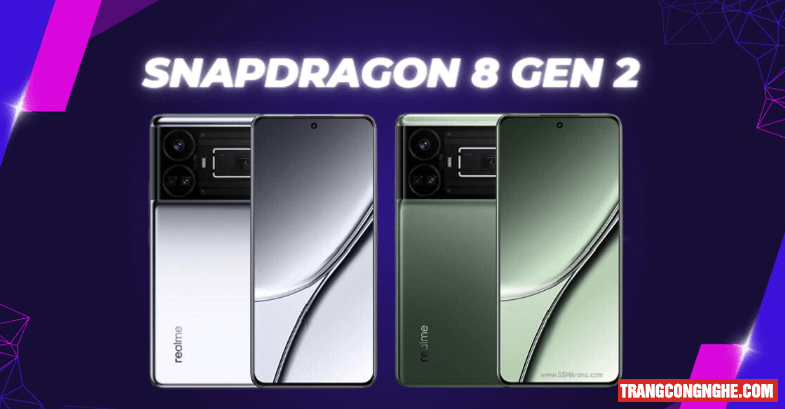 Realme GT5 not only provides a powerful processor but also brings users a better multitasking experience with up to 24GB of RAM. Using the latest LPDDR5X standard, realme GT5 ensures extremely high response to smoothly and stably meet multitasking needs with multiple apps running simultaneously.
The phone's multitasking ability is further enhanced by storage capacities of 256GB, 512GB and 1TB. This abundant storage space can help store important personal data as well as entertainment apps.
With the combination of huge RAM and large internal storage, realme GT5 delivers powerful processing, better multitasking experience and plenty of storage space. This phone not only meets daily needs but also ensures convenience and comfort for long-term use.
Realme provides a 4600mAh battery, a relatively common figure for flagship phones. However, I still hope Realme will upgrade the battery capacity for this phone line. Supporting 150W amazing fast charging and 50W wireless charging helps users fully charge the phone in the shortest time.
IS REALME GT5 WORTH BUYING?
According to realme's announcement, the realme GT5 will be officially released in China on September 4th with the following price ranges:
12GB RAM, 256GB storage version priced around 2999 RMB (approximately 9.9 million VND).
16GB RAM, 512GB storage version priced at 3299 RMB (approximately 10.9 million VND).
24GB RAM, 1TB storage version priced at 3799 RMB (approximately 12.5 million VND).
Realme GT5 has strong performance and good value at reasonable prices. However, the final decision still depends on your individual needs and priorities. Consider the phone's features and performance carefully before purchasing to ensure the best fit.
Related News